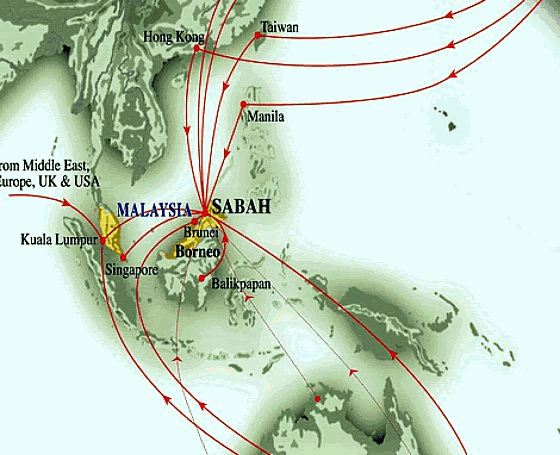 Sabah enjoys good air-links with major cities in Asia-Pacific. Direct flights as well as transit flights via Bangkok, Brunei, Hong Kong, Taipeh, Kaoshiung, Manila, Cebu, Seoul, Singapore and Tokyo offer frequent and easy access. Whether you are chartering your own plane or travelling on major airlines, you'll find the logistics are easy to plan. There are currently 6 airlines flying directly in Kota Kinabalu, the capital city.
Air Asia – flies from
- Clark Airport (just outside Manila), Philippines
- Bangkok, Thailand
Asiana – flies from
- Seoul – South Korea

Dragonair – flies from
- Hong Kong
Malaysia Airlines - flies from
- Kuala Lumpur,
- Brunei,
- Guangzhou & Shanghai – Mainland China
- Hong Kong - Greater China
- Taipei, Gaoxiung - Taiwan Region, Greater China
- Tokyo & Osaka – Japan
- Cebu & Manila – Philippines
- Singapore
- Seoul – South Korea
- Flies from Australia via Kuala Lumpur

Silk Air – flies from
- Singapore
Royal Brunei Airline – flies from
- Brunei

Borneo General

SABAH
Geography
Sabah is located at the northern part of the island of Borneo (the 3rd largest island in the world). It covers an area of about 73,600 sq. famously known as the "Land Below The Wind" as it lies beneath the typhoon belt.
History
Sabah was once ruled by the British North Borneo Company in 1818, and became a colony of the British Empire in 1888. In 1946, the Company's rule ended and was taken over by the colony of North Borneo until it was admitted into the Malaysian Federation in 1963. The administrative capital is Kota Kinabalu.

Population
largest indigenous ethnic group is the Kadazan/Dusun approximately 25% of the total population. The largest non-indigenous ethnic group is the Chinese who make up for about 30% of Sabah's population.
SARAWAK
Geography
Sarawak is situated on the north-west of the island of Borneo is the largest state of Malaysia, known as the "Land of the Hornbills", the second largest being its sister state, Sabah. It covers an area of 124,450 sq.km.
History
Once part of the Sultanate of Brunei, Sarawak has a romantic history where an English family ruled as Rajahs for over 100 years. It was ceded by the 3rd and last Rajah in 1946 to the British Crown and in 1963 it became part of the Federation of Malaysia. The administrative capital is Kuching.
Population
Sarawak is home to 28 ethnic groups; each with their own distinct language, culture and lifestyle. The Ibans form the major ethnic group on this land with about 30.1% of the total population. The Chinese, who generally live in the cities are the second largest group at 26.7%.
TRAVELLING IN BORNEO
LANGUAGE
Bahasa Malaysia is the official and national language. However, English is widely spoken.
CLIMATE & WEATHER
Equatorial / Tropical with Relative Humidity 85 – 95%
LOCAL TIME
Standard Malaysian Time is 8 hours ahead of GMT.
ELECTRICITY
The electricity supply is 220/240 volts at 50 hertz. The electrical plugs and sockets used are similar to those used in Britain. North Americans will have to use adaptors which are readily available from the major hotels.
CURRENCY AND BANKING HOURS
The unit of currency is the MALAYSIAN RINGGIT (RM). On arrival and departure, travelers are required to complete the Travelers Declaration Form which will be given upon the arrival. . Visitors are allowed to bring in any amount of foreign currency but amounts over USD10000 have to be declared upon entry. It is illegal to bring in or to take out more than RM1000 in local notes. Travelers Cheques and foreign currencies can be changed for MALAYSIAN RINGGIT at banks and hotels.
Banking hours are : Monday – Friday
9:30am – 3:30pm
CUSTOM ALLOWANCES
Normally visitors entering Malaysia are allowed to bring into the country, duty-free: up to a liter of alcoholic beverages and 200 sticks of cigarettes or 50 cigars and 225 gm of tobacco
IMMIGRATION & VISAS
There is a severe penalty for drug traffickers. Presently, only Israeli passport holders are not valid for entry to the country except with prior exemption. Visitors from most countries are not required to obtain a visa except for nationals from : Bangladesh, Bhutan, China, Cuba, Hong Kong ( Certificate of Identity), India, Myanmar, Nepal, Nigeria, North Korea, Pakistan, Sri Lanka, Taiwan and Vietnam. All other nationals are allowed in without visa requirements for a stay of 7 days. Generally visitors from Western countries are allowed in without a visa requirement for a stay of 1-3 months. Validity on passports should be 6 months or more.
DISCLAIMER: The administrator and owner/supplier/distributor/sub-agents/operator of this website shall not be liable for any loss or damage caused by the usage of any information obtained from this website.